Ekomak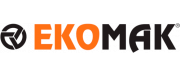 Since 1992, Ekomak, operating in the compressed air business which is used by all the industries today, had become a well-known, trusted brand in the sector with it's high-efficient compressors, compressed air dryers, line filters and other compressed air equipment's.
Maintaining numerous associateships and participations.
Ekomak Compressor, has various international certificates such as ISO 9001, ISO 14001, OHSAS 18001, CE and GOST for the main product group being manufactured.
Ekomak Compressor is a worldwide known firm for it's products and technology, which serves a number of crucial industries including aviation, food, chemistry, textile, metal, energy and petrochemistry, with reliability and innovativeness.
As a part of Atlas Copco group, Ekomak provides global solutions on industrial systems and a range of equipment's.
Contact information
Proven by years of successful work