Mobile Solutions
Mining and underground machinery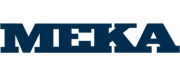 Description
Semi-trailer mounted crushing plants are also available from MEKA product range. They are complete with feeder,
crusher, discharge conveyor and electrical control panel to make it user friendly and productive.
MEKA MMG plant combines jaw crusher with a high stroke, vibrating grizzly feeder resulting in high production
mobile crushing machine. Grizzly feeder is with adjustable opening and by-pass chute for greater flexibility. The tail
of the product conveyor raises for transport and lowers for operation, maximizing clearance under the jaw crusher.
The conveyor discharge height adjusts to reduce material impact on the receiving conveyor.
MEKA MMPI series impact crushing plant is built with the MEKA MPI impact crushers, being the primary option in all limestone or recycling crushing applications. MPI large horizontal shaft impact crushers are matched with vibrating grizzly feeders providing high capacity primary impact crusher plants that are tough to match in productivity. The plant can be fed by wheel loader. Excavator or dump truck. Optionally the impact crusher can be equipped with a tertiary breaker plate providing higher production ratio.
Mobile Solutions:
Track mounted
Crusher
Portable crushing & screening
Units
Conveyor systems
Automation and
Process control
Request for quotation
Formulate your request. Fields marked with * - are obligatory
Спасибо!
Мы свяжемся с вами в ближайшее время.
Contact information
Proven by years of successful work