Open pit drilling tools
Mining and underground machinery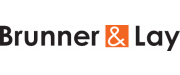 Description
The new line of drilling tools consists of rock drill bits developed by Brunner & Lay. They are able to handle any kind of rock: hard or soft, abrasive and non-abrasive. These drill bits offer extended life and sharpening intervals, which means you can drill more meters of rock before stopping for maintenance. Each Powerbit ensures that miners work efficiently.
Request for quotation
Formulate your request. Fields marked with * - are obligatory
Спасибо!
Мы свяжемся с вами в ближайшее время.
Contact information
Proven by years of successful work