Integral drills and removable drilling bits with tapered drilling tools
Drilling tools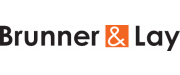 Description
Brunner & Lay taper cross bits with a rod for portable rock drilling rigs are designed for drilling boreholes in mines in fractured rocks of medium strength and hard rocks of any abrasiveness.
Request for quotation
Formulate your request. Fields marked with * - are obligatory
Спасибо!
Мы свяжемся с вами в ближайшее время.
Contact information
Proven by years of successful work