Doosan Infracore's market share in the Middle East rose to 13.4%, doubling since 2018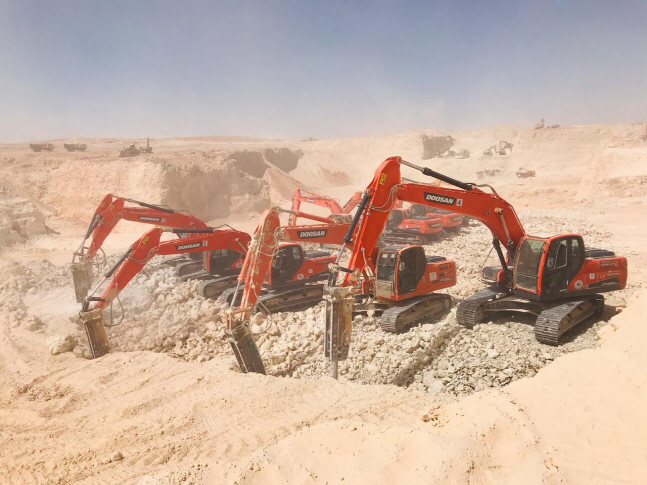 07 August 2020
– Doosan Infracore signed major contracts in the region, including a contract with ARAMCO for 20 wheel loaders at the beginning of the year.
Doosan Infracore has significantly expanded its share of the construction machinery market in the Middle East through the signing of a number of major contracts with various countries in the region, including Saudi Arabia.
On July 14, 2019, Doosan Infracore announced a 13.4% share of the construction equipment market in the Middle East for the first half of 2019 (consolidated market share at the end of May), more than doubling its market share in Last year.
Earlier this year, Doosan Infracore signed a contract with Arabian machinery, an official partner of Saudi Arabia's state oil company Aramco, for the supply of twenty wheel loaders. Since then, the company has entered into major contracts with other Saudi construction companies to supply more than seventy 19-52 ton excavators and other equipment.
Doosan Infracore recently signed a contract to supply thirteen wheel loaders to Oman, where the need for large construction vehicles was previously relatively low. In total, the company sold over 460 construction equipment units to the Middle East in the first half of this year, increasing its sales in the region by 66% over the same period last year.
Doosan Infracore is also committed to developing sales in the non-GCC * Middle East countries. In particular, the company fulfilled contracts for the supply of construction equipment concluded with the government and private companies in Iraq, which recently launched a number of projects for the reconstruction of economic facilities.
A spokesman for Doosan Infracore said: "This achievement, largely driven by the attraction of reliable trade channels, is significant given the serious political and economic risks associated with any activity in the Middle East." He added: "We will be focusing on the GCC countries in new region-optimized projects while strengthening our distribution networks in neighboring countries to continue to expand our presence in the region's market."
* GCC (Gulf Cooperation Council): A regional interstate alliance designed to enhance cooperation among six oil-producing Arab countries, including Saudi Arabia, Kuwait, the United Arab Emirates, Qatar, Oman and Bahrain.