Allison Gearboxes Series 1000/2000
Spare parts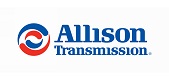 Description
Designed for light commercial vehicles in both on-highway and public transport applications, Allison Transmission's 1000 and 2000 Series are built for reliable, productive and fuel efficient operation.
Features:
Up to 6 speeds
Rated up to a maximum of 224 kW (300 hp)
Close and wide ratio gearing
Advanced electronic controls
Prognostics
Power Take-off available
Request for quotation
Formulate your request. Fields marked with * - are obligatory
Спасибо!
Мы свяжемся с вами в ближайшее время.
Contact information
Proven by years of successful work